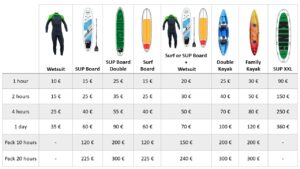 Service for people who have had some experience with paddle surf and who can demonstrate a minimum of knowledge and autonomy.
Double Kayak: 2 adults or 2 adults + 1 small child.
Family Kayak: 3 adults or 2 adults + 2 children.
SUP XXL: Giant Paddle Surf , 8 to 10 adults. Includes 8 paddles.
Contact
About us
Second-Waves has changing facilities, showers and lockers.
All our prices can be adapted according to the number of rented tables and the days of rent. Do not hesitate to contact us and ask us for quotes.
Second-Waves has surf and SUP equipment rental services adapted for people who want to enjoy without schedules or established places.
Our SUP tables are inflatable so you can take them wherever you want. We have tables for waves, traverse and learning. They have backpack, inflator, oar and leash.
Schedule:

Monday to Saturday   9:00 – 19:00  
Sunday 9:00  – 20:00
+34 621-2058-80
It is forbidden the partial or total reproduction of the web or the content of the same.
[/mp_row_inner]